St John's United Church of Christ
A Family Church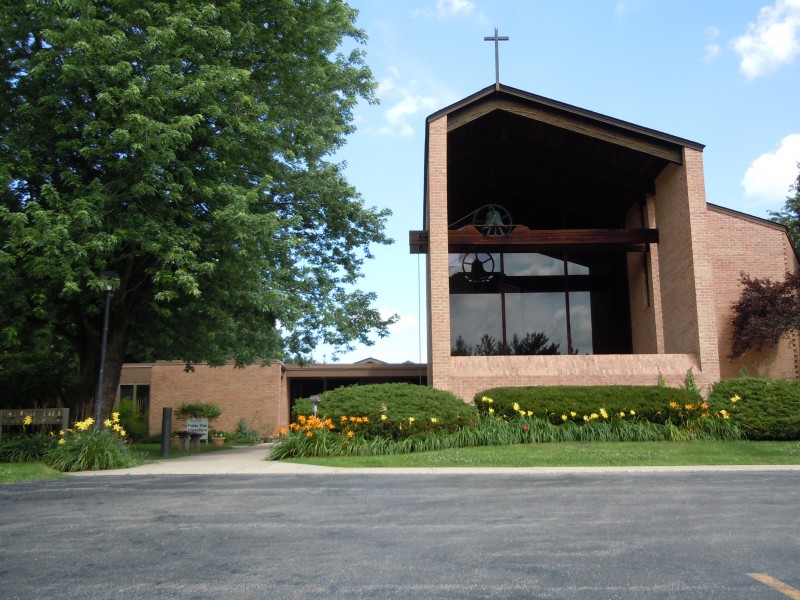 Tucked away in a neighborhood off of Hobson road, St John's United Church for Christ is a rich piece of Naperville history that often goes unnoticed. With less than 200 members, its is a church defined by the people who make up the congregation. Seeing 40-50 people in the seats week after week, their worship is an intimate experience that you won't find elsewhere.
But what makes them special is their dedication to one another. Quite unfamiliar to most church-goers in Naperville, the smaller churches are less concerned with growth, and more concerned about connecting one another. They are often based in the families that make up the congregation. Rather than the leader, the pastor is a facilitator of conversation within the congregation. This is what you'll find at St Johns. Truly, it is a
Church where everyone is heard.
For further specific information about St John's, feel free to explore the tabs below!


At St John's, people come to Learn, to Worship, to Fellowship, and to Serve.
Learn
This happens on Sunday mornings with bible studies at 9:00am before the service.
Worship
Every Sunday at 10:00am
Fellowship
From coffee hour after every service, to Kane County Cougar baseball games, to biweekly get togethers at Quigley's, this congregation values spending time in their community. Its what holds everyone together and brings them closer. Its how they learn about one another, and keep connected throughout the week.
Serve
Serving their community and the world, St Johns puts together disaster relief kits, made tie blankets for nursing home residents, purchases Christmas present for the less fortunate, and, until recently, worked with PADS. Due to their smaller numbers, they don't have as many resources for larger projects. They keep serving simple, but still impactful.


St John's was founded in 1857 by German Settlers Adolph and Herman Hammerschmidt. Originally a Lutheran congregation, they stayed true to their German roots and spoke the language right up until World War I, where it became uncomfortable to speak German in the United States. In 1957, they became apart of the United Church of Christ.
To read a detailed account of their history, click here.


Sundays at St John's all have a similar set up:
Bible Study: 9:00am
Worship: 10:00am
Sunday School: 10:15am
Fellowship: 11:00am
First Sundays of the Month:
Communion during worship
German Service: 11:30am


Worship Space and Bulletin
The sanctuary at St John's is small in size. Fitting maybe 150 people in the seats, it is an intimate setting for worship. With a giant window in the front of the room, the space is full of natural light. With an altar and a cross at the front of the room, it is probably very close to what you would expect of a traditional sanctuary.
Walking into their old wooden doors, you are handed a bulletin with the order of service for the week. To see a copy of the bulletin, click here.
Congregation Demographics and Participation
Every week there are 40 or so people that attend the worship service. This congregation is made up of mostly older people, with a few families and a few young adults. They are less participatory, however, it depends on the hymn they're singing.
Music
During their services, they sing hymns out of the Chalice Hymnal. In the summertime, they have guest artists but during the year they also have a choir that performs. According to their pastor, they also welcome a quartet of Native American flutes 3-4 times a year to play at their services.
Communion
At St John's, they receive communion once a month by intinction. The bread and the wine is passed around in the seats, and everyone takes it at the same time.
Prayers and Announcements
Prayers and Announcements are a time of conversation among the congregation.
During the announcements, the pastor says a few words, but then opens it up to those in the seats to share about various events for the church.
During the time for Prayer, the Pastor opens up the floor for people to voice their prayer requests aloud. If no one voices their prayers, the pastor concludes by saying that God hears all of our prayers, even if they don't voice them aloud.
What's it like to be a visitor?
St John's is a small tight-knit community. While they are incredibly welcoming, coming in as a visitor is an experience that can be a little intimidating if you aren't prepared for it. The pastor is very easy to talk to, and their coffee hour is a great opportunity to get to know people in the congregation!


St John's hopes that worshipers would leave feeling like they had worshiped in the presence and communion with God. During worship, they hope that people would feel a sense of love and community.


Sticking true to their German roots, St John's offers a service in German on the first Sunday of every month. To learn more, click
here
.


Despite their small size, St John's still finds ways to serve in the community. They participate in the Naperville Crop Walk, are involved in conversations about the rising suicide rate with the Naperville Police Department, and do various other service projects in the community.


Website: St Johns
Address: 1190 Olesen Drive Naperville, IL 60540
Phone Number: 630-961-9942
Email Address: naperstjohnucc@sbcglobal.net